Turkey Mushroom Meatloaf
Ingredients:
1/2 lb (or 8 ounces) mushrooms, trimmed (about 15 mushrooms)
1 C. finely chopped onion
2 tsp. minced garlic
1 Tbls. olive oil
1 tsp. kosher salt
1/2 tsp. ground black pepper
1 Tbls. Worcestershire sauce
7 Tbls. ketchup, divided
1 C. panko bread crumbs
1/3 C. milk
2 large eggs, lightly beaten
1 1/4 lb. ground turkey (92% lean)
Directions:
Heat oven to 400º F. Line a baking sheet with aluminum foil then lightly oil the bottom.
You can chop the mushrooms one of two ways: by hand or in a food processor. The mushrooms need to be very finely chopped, about 1/8-inch pieces. Set aside.
Cook onion, in oil, in a large skillet over medium-low heat, stirring occasionally, for 5 minutes or until softened. Add garlic then cook 1 minute.
Add chopped mushrooms, a 1/2 teaspoon of salt and a 1/4 teaspoon of the pepper. Cook, stirring occasionally about 10 minutes or until liquid from the mushrooms has evaporated and they are tender.

Transfer onions and mushrooms to a large bowl then stir in 3 tablespoons of ketchup and 1 tablespoon of Worcestershire sauce. Cool 5 minutes.
In the meantime, stir together the breadcrumbs and milk and let stand 5 minutes.
Add breadcrumbs and beaten eggs to onions and mushrooms then mix well. Next, add turkey along with remaining 1/2 teaspoon of salt and 1/4 teaspoon of pepper. Mix well with hands (or a fork). (The mixture will be very wet).
Form mixture into a 9-inch by 5-inch oval loaf in the middle of prepared baking sheet. Then, use the back of a spoon to spread the remaining 4 tablespoons of ketchup on top of the meatloaf.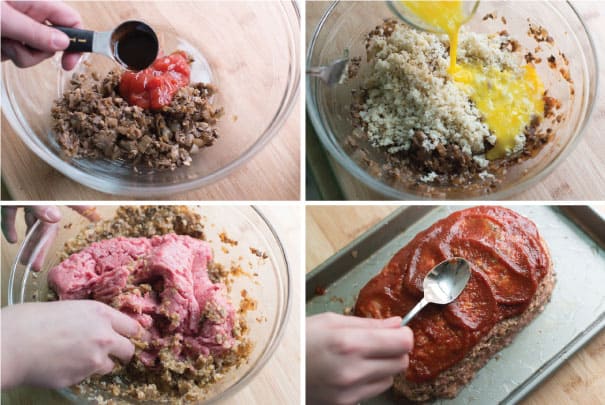 Bake until an instant read thermometer inserted into the thickest part of the meatloaf registers 170 degrees F (77 degrees C), 45 to 50 minutes. Let stand 5 minutes before slicing.
**Adapted from http://www.inspiredtaste.net/21535/unbelievably-moist-turkey-meatloaf-recipe/